I was fortunate enough to win the bid for a new metal art piece to be hung next to Wolverton Town Hall. Its called By The Steel Rails Iron Horse. It is up and installed!
It started with winning a commission for the Wolverton Society for Arts and Heritage. The commission was to design a wall mounted metal art work which referenced the Arts and Heritage of Wolverton.
It was personal to me. I am a sculptor living in Wolverton. When I walk the streets of Wolverton, its history is everywhere. It was the first Railway town, with its Victorian housing stock built for the workers of the railways. Bigger houses for the bosses even a Railway surgeons house, but meandering down the gunnels and back alleys you see an abundance of workshops, large old sheds that conjure up the tale of a town of engineers and skilled workers and its history goes back well beyond that.
Wolverton is a diverse place and a strong community. There are so many bohemians, artists, poets, musicians. There are workers, engineers, academics and the town is blessed with a cultural diversity with many ethnic groups
About the Artwork

The metal piece is about 3 metres by a metre. It is made of 3mm Corten Steel which is designed to patinate over time. It rusts -and turns a beautiful orange brown colour. The original design was done as a drawing and then I made a digital cutting file so it could be laser cut.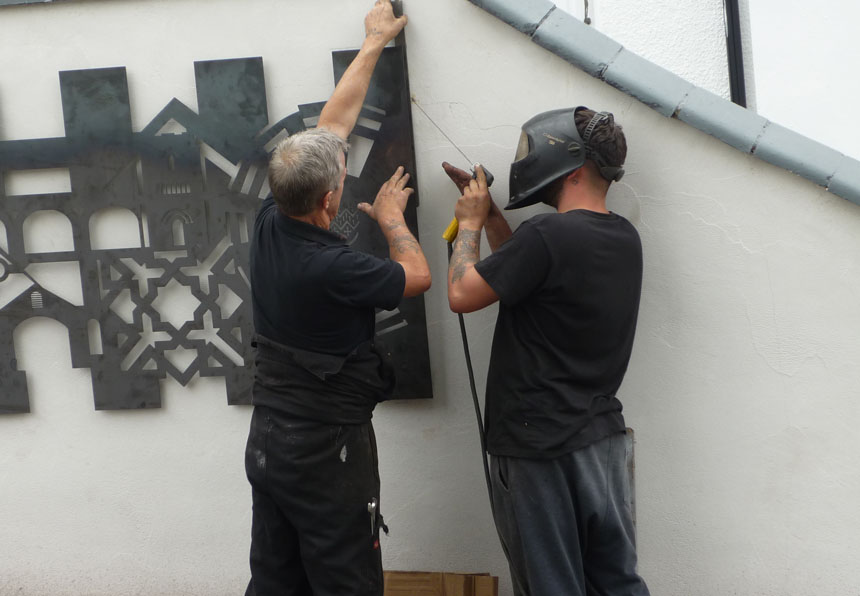 Once the piece was laser cut it needed to have installation bracket made and attached to the back of it. This was so the screen would be held out from the wall, so it floats 20mm in front of the wall. It creates great shadow silouettes on the wall in the sunlight. Finally when it was delivered and installed on hooks on the wall it needed a few spot welds so no one could lift it off!
The piece is called By The Steel Rails Iron Horse. Check it out if you are in the area, it is next to Wolverton town hall! I hope you like it.